2019 Trimble County Apple Festival
Saturday - September 7th
10 am - 6 pm
Sunday - September 8th
Noon - 5 pm
Bedford, KY 40006
FREE ADMISSION!
Music, Crafts, Pageants, Food, Contests, & Kids Activities !!!
The mission of the Trimble Co. Apple Festival is to raise funds for local schools, civic and community groups or activities which support and promote the betterment of our children, citizens and/or community.
2019 GRANT RECIPIENTS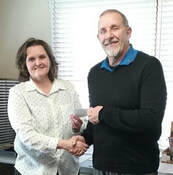 Dena Ratliff Warren, TCAF Treasurer, presenting grant to Chuck Butcher, Bedford Rotary President
To carry out its mission a portion of the net proceeds from the annual event were designated by the board, at its March meeting, to various groups that benefit the citizens of Trimble County.
A total of $2,150 in grants were awarded to the following;
Bedford Rotary - Scholarships for 2019 graduating Seniors
Bedford Fire & Rescue
Milton Fire & Rescue
Trimble County Elementary School - Art Dept.
Trimble County Emergency Management
Trimble County Junior/Senior High School - Science Dept.
Trimble County Little League
Trimble County Project Prom
Trimble County Public Library
During the 2018 festival, groups who provided services, materials, and/or activities received a total of $2,000 for their support and included; New Life Assembly, TCJSHS Boys Basketball, TCJSHS Cheerleaders, Good News Homes, Trimble County 4-H, Girl Scouts and the Trimble Klunkers.
This year the two day festival will be held the weekend following Labor Day on September 7th and 8th at the courthouse square in Bedford, KY. Plans are to include pioneer artisans, so the public can see how items were made in the past, plus once again conduct a Quilt Raffle to help raise funds. Vendor applications are available at their website
www.trimbleapplefest.org
with a deadline of September 1st. Businesses and individuals wishing to sponsor the festival with a monetary donation, and receive public recognition, can find a form on the website as well.
If local groups would like to earn money for their activities by working during the Apple Festival, please email
information@trimbleapplefest.org
or call/text Lisa Moore at 502-552-1092. Persons wanting to volunteer to assist with planning and conducting the festival, please feel free to attend meetings on the 3rd Tuesday at 7pm in the Judge Executive's office.
​
2018 Grant Recipients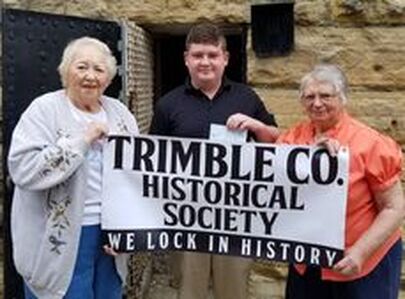 The Trimble County Historical Society was selected by the Trimble County Apple Festival Board of Directors to receive a grant donation to further its vision of preserving our county's heritage. Trevor Goode, Treasurer and Sue Fisher, Vice-President presented funds to Hilda Parrish and Bette Hackney at the old county jail, which they hope to restore to its "glory."
Other 2018 grant recipients include: 4-H Camp Scholarship, No Child Hungry, ILEAD Academy and the Henry/Trimble County Humane Society. In addition, the following groups received donations in 2017 for their help at the annual Trimble County Apple Festival: Boy Scout Troop 213, New Life Assembly, TCHS Boys Basketball, TCHS Cheerleaders, The Well Church, Trimble County Archery, Trimble County Girl Scouts and Trimble Klunkers.